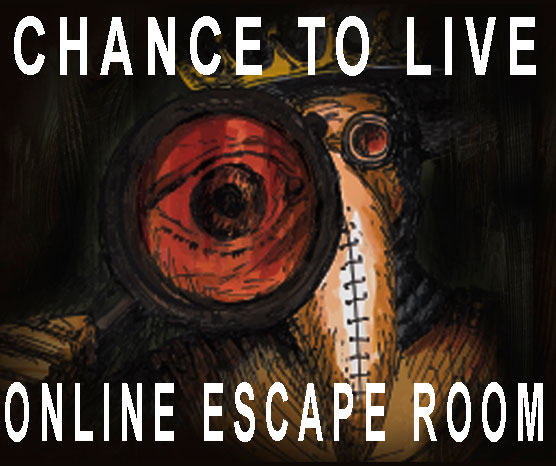 CHANCE TO LIVE
Play online anytime
A fascinating web based escape game full of wow factors
which you can play without leaving your house.
You have a chance to investigate a mystery from the past:
2020, an opening of the time capsule solemnly buried in 2000 turns into a worldwide mystery when
strange files named SARS CoV 2 are discovered among its contents. How did they get there and what
is in those files? Will you be able to find out?
This educational science fiction thriller is  a challenging game for 1 person or a whole team.
Game Length: 60 – 90 minutes
Age guide: 16 +
Difficulty Rating: 8/10
Price $25 per game. 1 player or a whole team. Unlimited number of teams can play at the same time
Location: Play from anywhere in the world! All you need is a computer and internet connection.
What does the game look like?
The game is an educational science fiction thriller. One of a kind web based virtual game. 
Featuring High quality graphics and sound, with puzzles that will challenge even the most sophisticated
players.
How does it work?
This online escape room experience is played in your web browser. After buying the game you will receive the website link and key within 2 hours of purchasing (its normally much quicker, but please allow 2 hours). You can start the game at any time, but once started the key expires after 3 hours. In other words, you cannot start the game one day and come back to it the next day with the same key. 
You can share the game experience with others by inviting them to your own zoom, webex any other group chat.
What do I need?
The game is best played from a computer, not a mobile phone. Ideally a laptop, or a desktop that has a microphone and speakers/headphones.
You will also need an internet connection.
If you want your friends to join in the fun then you should invite them to a group chat/video call before starting the game. If you are using something like zoom, you can share your screen for all the other players.
We also recommend having a pen/paper available.
When can I play?
Once you buy the game we will send you the key and a website link. You can then start the game anytime you wish.
Please note once you start the game the key will expire in 3 hours.