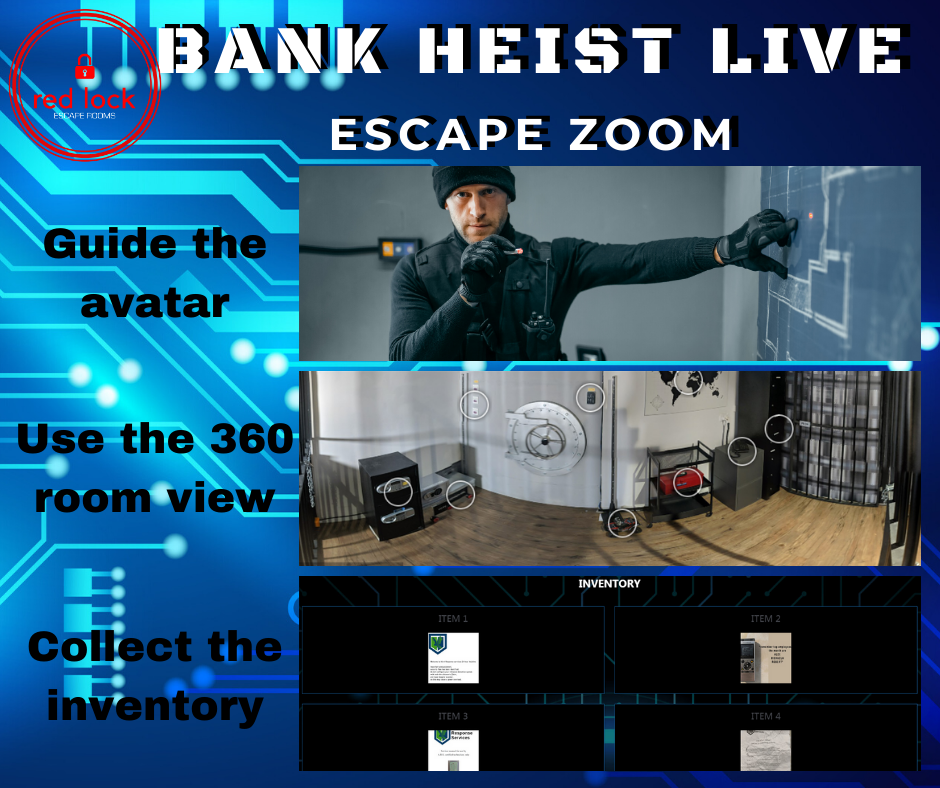 Bank Heist Live
A Zoom live-streamed Escape Room
You and your crack team are about to attempt your biggest bank heist yet! Solve the hi-tech security system and escape with your share of $10 million!
Our Bank Heist live streamed escape room game is suitable for both beginners and experienced players of 2 to 6 players.
Game Length: 60 minutes
Age guide: 10 +
Difficulty Rating: 7/10
Price $150 per game. Up to 6 players and/or 4 connections.
Location: Connect from anywhere in the world! All you need is a computer/laptop connection.
What is a live stream?
You can enjoy the fun of an escape room from the comfort of your own home as you control a gamemaster in real time live around the game, remotely from your computer.
You will see what the game master sees and direct him around the room, working with him to find clues and solve puzzles.
How does it work?
After booking you will receive a website link and password. You should pass this information to all the other players in your team. Remember they can be anywhere in the world! 
Up to 4 separate players can join the game and at each of those locations other players can share the fun.
You might want to have all the family join in at one location and invite your relatives from another country to play.
What do I need?
The game is best played from a computer, not a mobile phone. Ideally a laptop, or a desktop that has a microphone and speakers/headphones.
You will also need a good internet connection as you will be watching live video from the escape room.
The best web browser to use is google chrome.
We also recommend having a pen/paper and cup of tea all ready.
When can I play?
We are in Queensland, Australia – Australian Eastern Standard times – AEST. We initially have opened game's on Australian Friday and Saturday mornings. 
9:00am –   AEST
10.30am – AEST
12:30pm – AEST
2.00pm –   AEST
If you cant find a suitable time for your country please contact us and we may be able to open up a time for you.
What time can I play in my country?
If you are in the USA then booking our 9 am Friday game is a Thursday evening game for you.
Likewise our Saturday games would be Friday evenings.
Our 9:00am Game
San Francisco, USA    4:00pm
New York, USA           7:00pm 
London, UK                 Midnight
Our 10.30am Game
San Francisco, USA     5:30pm
New York, USA            8:30pm
London, UK                  1:30am 
Our 12.30pm Game
San Francisco, USA     7:30pm 
New York, USA            10:30pm
London, UK                  3:30am
Our 2.00pm Game
San Francisco, USA     9:00pm
New York, USA            Midnight
London, UK                  5:00am
THE USA TIMES SHOWN ABOVE ARE FOR THE EVENING BEFORE THE BOOKED DATE.
E.G, IF YOU BOOK A FRIDAY 9 AM GAME WITH US, THIS WOULD ACTUALLY BE A THURSDAY EVENING GAME IN THE USA.
IF YOU ARE UNSURE PLEASE CONTACT US PRIOR TO BOOKING.
Other countries
Check the time in your country from the world clock website.